Our mobile puzzle game Guinea Pig Bridge turns 2 years old today! Back on July 18, 2018 we launched with:
32 levels across 2 "worlds": Woodlands and Zen Garden
25 unlockable guinea pigs
4 players/beta testers
0 downloads on iOS
0 downloads on Android
We set the deadline of July 18th after crunching pretty hard throughout the previous two months, and submitted to the app stores over a week ahead of time, hoping the app would be accepted before the deadline. Then we waited. Finally, when we were taking a break (finally!) away from our computers, hiking in Oak Glen, California, we got the email from Google saying our app was good to go! Here's Cameron trying to jump for joy:
We had high hopes for our little guinea pig game, but had no idea that so many people would download it, or how nice the reviews and comments would be! One of the best things about collaborating with Parry Gripp is that he has the most positive community on the internet EVER (which, on the internet, is a pretty rare thing)! We also learned that guinea pig lovers/enthusiasts/veg providers are equally lovely human beings.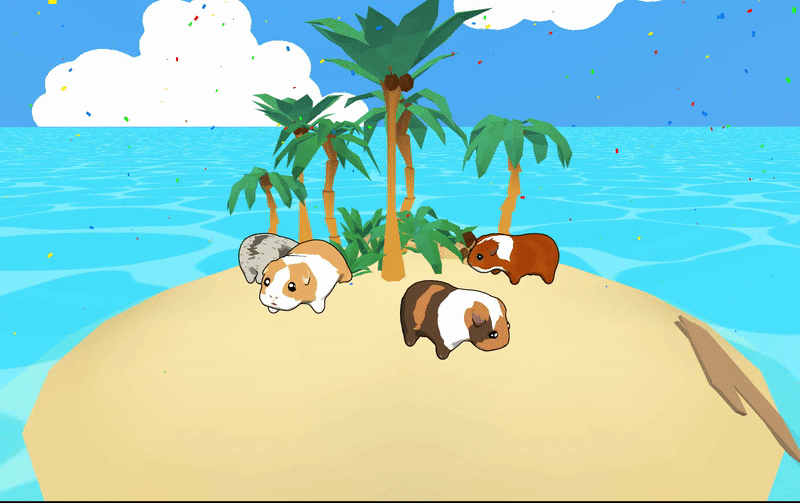 The past two years have been pretty rough at times, for us personally, but throughout it we took a lot of joy in seeing people of varying ages, speaking various languages, respond positively to something we worked so hard to create.
Doing events like the Costume Contest with Parry was a blast: for an entire month we got to wake up to new adorable drawings in our Dropbox from players around the world!
We also enjoyed showing the game off at Minefaire in Los Angeles and San Mateo in both 2018 and 2019 and meeting some of you in person!
Two years on, we have:
76 levels and 5 worlds
an infinite random level generator
40 pigs, one cat, and lots of costumes
236k downloads on Google
40k downloads on iOS
We never dreamed we would get over a quarter of a million people playing our game! Thank you all so much!!! We hope you stay with us as we move forward on our next big project and continue to support Guinea Pig Bridge.
For anyone who hasn't yet played it, it's now completely free!
On Android HERE
and iOS HERE
(Compatible with most phones and some tablets, but may have issues on older devices)