Another week of lockdown here at the studio… but at least it's been good for our productivity! In addition to long-term contract work, tending our garden, and designing our new game (more about that soon), this week we've been wrapping up another ongoing project.
Late last year, we signed on to help a class of students at Pomona College use Unity as a tool to visualize historical art and architecture in a digital 3D space. The goal was to use our skills as game designers to help bring the research and knowledge of the students to life.
With the class moving entirely online halfway through the course– and us moving out of California in March– it's been a challenge! We had a few days of in-person instruction in January and February, during which we were able to get the class set up with Unity and introduce them to some basic principles. There were some initial hiccups with installing Unity, getting everyone working in different scenes in the same project, and, of course, troubleshooting Macbooks.
After talking with the professor beforehand, we decided that the students would focus on researching and designing areas in the Alhambra palace in Granada, Spain. Initially we had our reservations, given the size of the palace– not to mention the intricate decoration adorning nearly every wall, door, floor, and window in every room.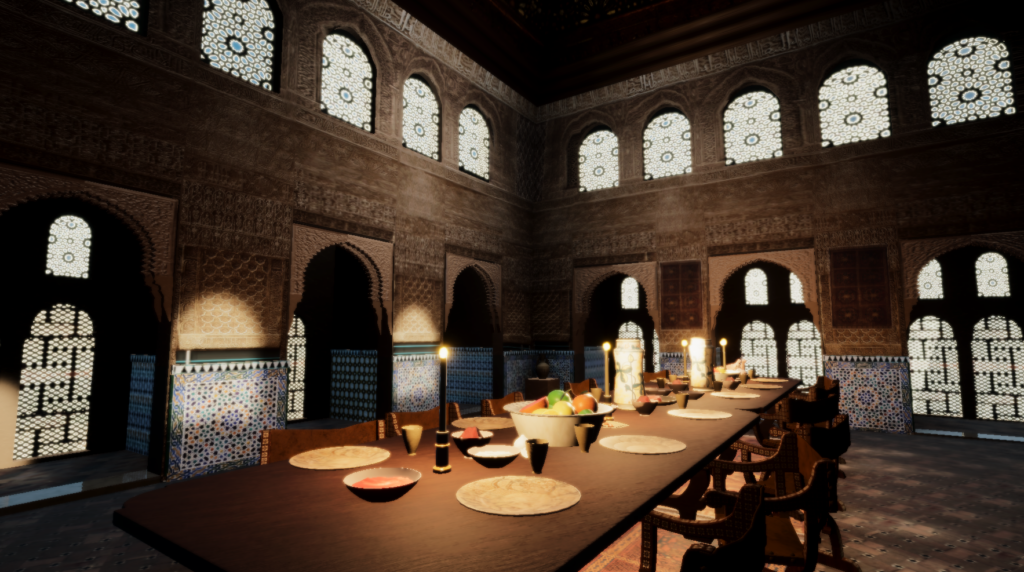 Our solution was to focus on a few rooms of the palace, which students would be able to decorate according to time period, since the spaces were used in a variety of ways over time.
Working from the material and information provided by the course instructor, we settled on the Court of the Lions, the Hall of Ambassadors inside the Comares Palace, and the Hall of the Two Sisters. Luckily, the geometry was simple enough to model, even if the textures were extremely complex. We set up the spaces in a master Unity scene, connecting them all via a virtual museum gallery (below).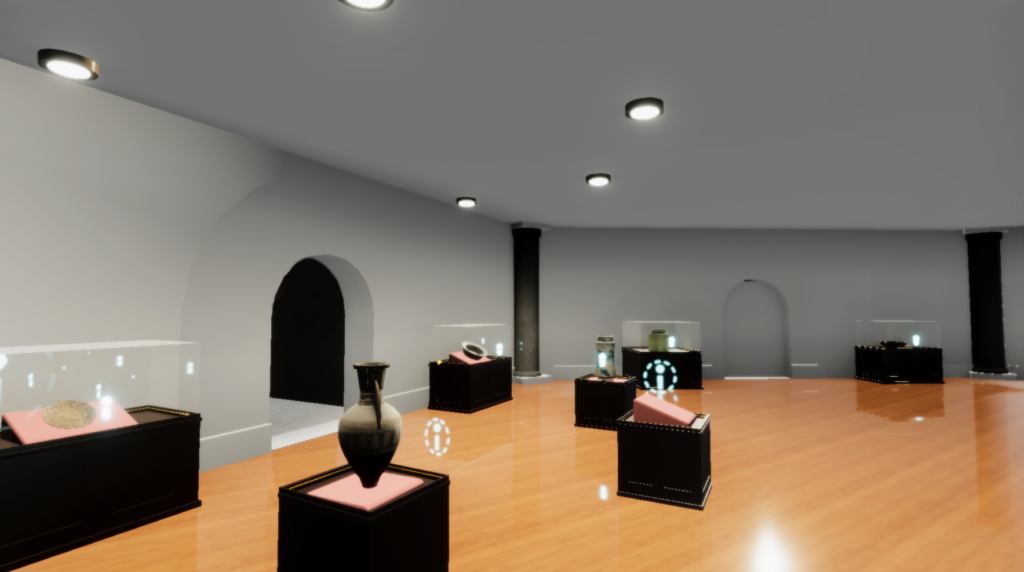 In the gallery, students would be able to write about objects we created for them to place in their scenes. We added some basic UI to let users inspect the items, many of which exist in the actual Museum of the Alhambra.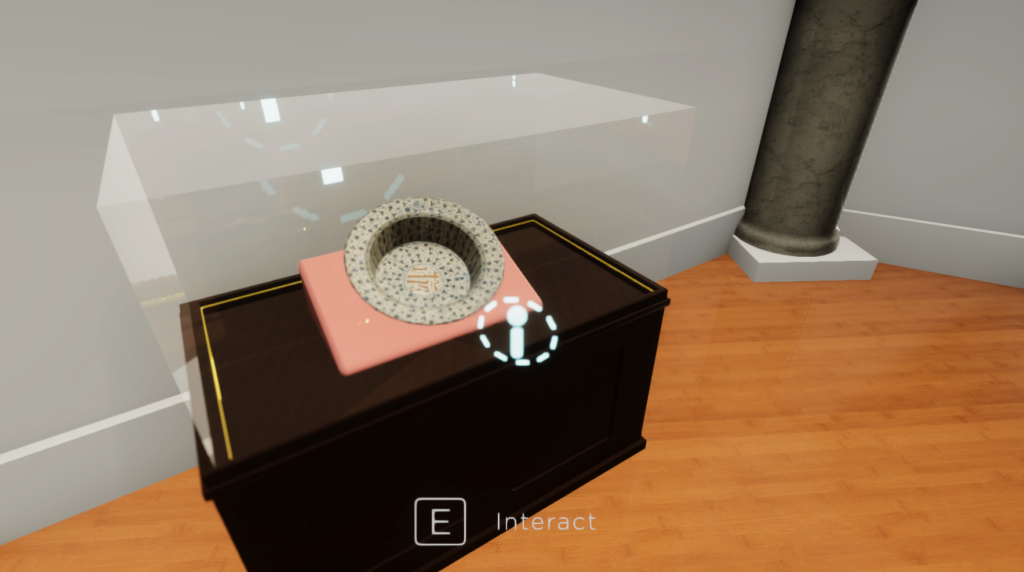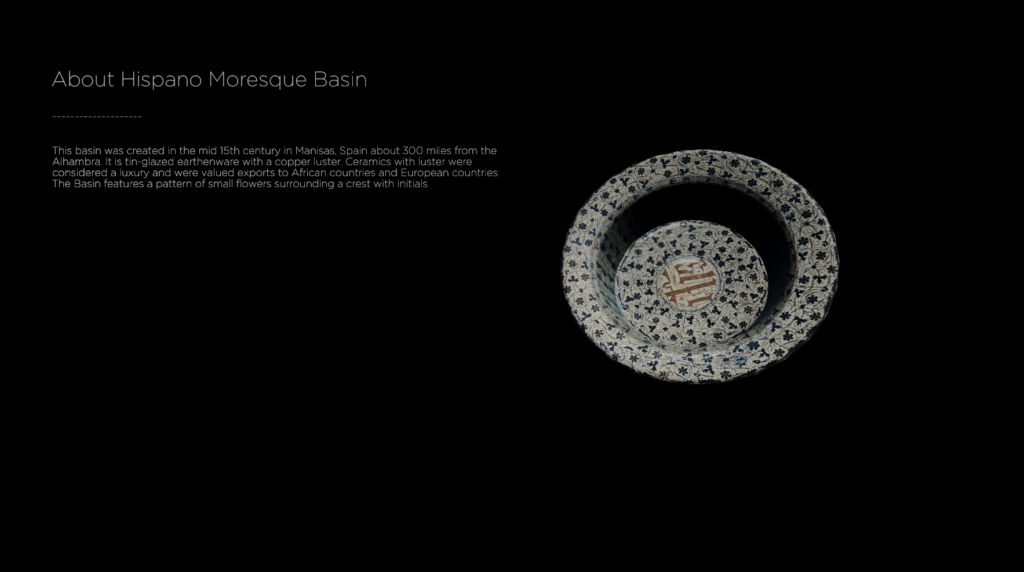 The first of the scenes, set in Hall of Ambassadors– reimagined as a dining area by Grace Sartin– focuses on Nasrid ceramics, created and used during the palace's early days.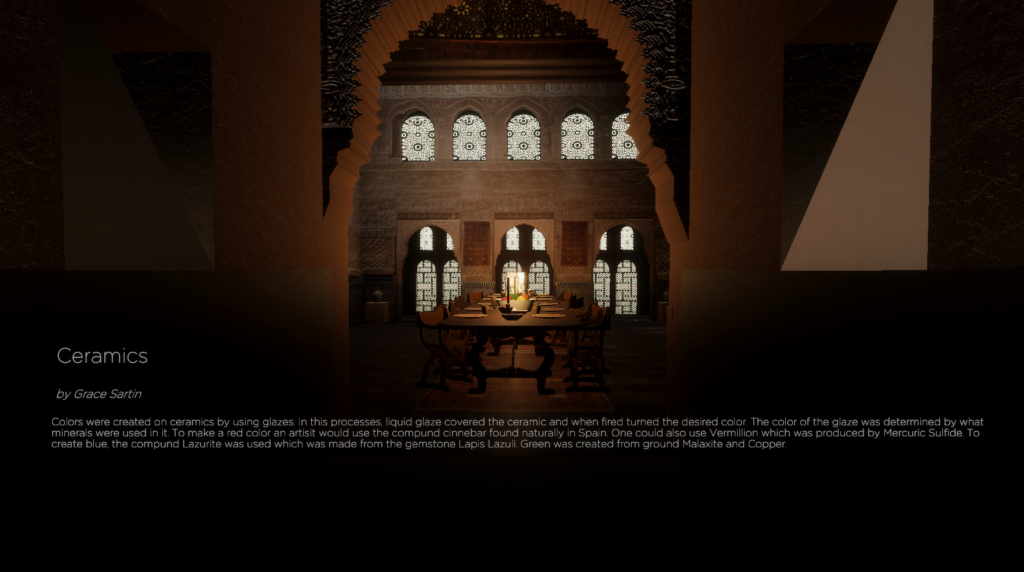 We're still working on adding more textures to the walls and polishing the visuals to give a more accurate representation of the space, but as you can see, it's definitely coming along! At the student's request, we even added some period music to play when users enter the room.
Over the next week or two we'll be working with the other student groups, finishing up the last two scenes, and finalizing the project!